Topic Summary
Posted by Cajunate on Dec 1, 2011, 10:16am
Beginning today through noon(central time)Dec. 15, 2011 will be the time between which anyone interested in winning a copy of Chef John Besh's "My New Orleans-The Cookbook" needs to participate. All you have to do to enter is post something in any of the many topics on the forum here at Eatin' Louisiana. If your not a member, sign up. It's easy. Your post can be anything pertaining to eating or cooking something Louisiana related or anything that falls under any of the boards listed on the front page of the forum.
The more you post the better your chances are of winning.
This is a very nice book you will treasure as a great cookbook or a very nice coffee table book.

This is the book below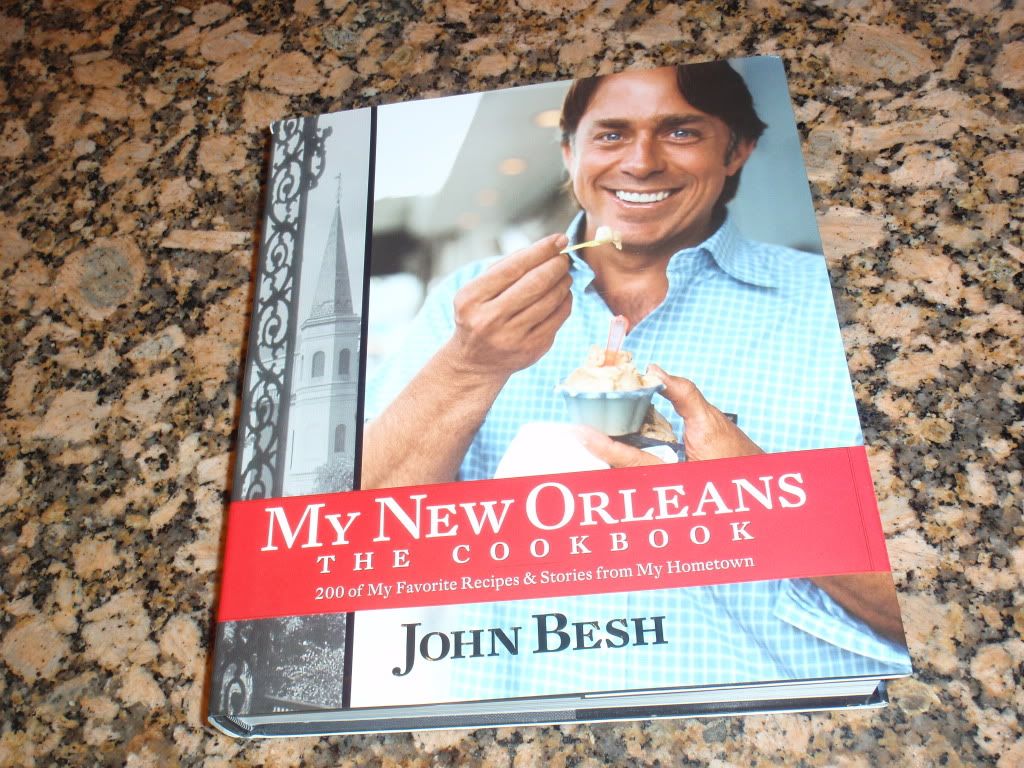 And to make things interesting, if there's enough interest in this contest I may even include a copy of John Besh's newest cookbook "My Family Table".

I guess I should also mention that I will include some other Louisiana products in the prize package. Now, go ahead and post something and let's start some conversation here.
Posted by Vindii on Dec 1, 2011, 1:35pm
I'm in.

Does this guy also have a TV show. Thought Ive seen him on something...
Posted by a26guy on Dec 3, 2011, 3:14pm
Louisiana is the best of the best for food and friendly folks. My Favorite place is New Orleans where I go from one restaurant to another. Then take in some great music and more food.
Posted by keymaster on Dec 4, 2011, 9:55am
Looks like another great book and giveaway!!!
Posted by mreman on Dec 12, 2011, 4:18pm
This cookbook would sure be nice to have! I have tried some of John Besh's recipes in the past, and would love to try some more!

Posted by Cajunate on Dec 15, 2011, 9:49pm


And the winner is............(turn your speakers on and click on this link before scrolling down)... http://www.ilovewavs.com/Effects/Music/Sound%20Effect%20-%20Drum%20Roll%2002.wav
*
*
*
*
*
*
*
*
*
*
*
*
*
*
*
*
*
*
*
*
*
*
*
*
*
*
*Keep going......
*
*
*
*
*
*
*
*
*
*
*
*
*
*
*
*
*
*
*
*
*
Vindi!!!!!!!!!!~~~~~~~~Congratulations!!!!!!
Posted by keymaster on Dec 16, 2011, 6:56am
Congratulations Vindi!!!!!!!
Posted by Vindii on Dec 16, 2011, 8:28am
Sweet!

I love cookbooks especially ones about New Orleans food.

Thanks much!




Posted by Vindii on Dec 21, 2011, 5:36pm
Got my cookbook today along with another cookbook and a couple other goodies. Thanks a bunch Caj.

You'll all be seeing a northern boys attempt at some New Orleans cooking.



Posted by Cajunate on Dec 22, 2011, 6:48am
You're very welcome Vindi!
I know I haven't been very active here lately. Work has been killer finishing up for the year. Today is my last day of work(except for going in sometime next week to do major cleaning restocking and organizing until Jan. 3, 2012)so I'll catch up soon.